"The sea, once it casts its spell, holds one in its net of wonder forever." – Rachel Carson
This week we were over the halfway mark for the Marine Guide course and the end of our time at Ulovane was coming quickly into view.
Much too quickly for our liking, but before any of that, we started the week strong with a day of lectures focusing on fish, reptiles, and amphibians. Complementing the knowledge we had from the field guide course and going into new depths on some interesting topics such as the lateral line of fish which acts as a highly sensitive sensory organ allowing fish to swim in perfect unison in giant schools, it is incredible to see thousands of fish swimming together as one organism.
Tuesday was marked out as a day for fishing where the aim was to catch and identify as many different species as possible, as well as the chance for some of our competitive streaks to come out to see who among us could catch the most fish, unfortunately, the jury is still out on who the real winner was. We started off on the Kowie river and got to try our hands with a seine net, a large net used to catch a large amount of fish at one time, it was all hands on deck to haul it in each time and identify some species such as spotted grunters and groovy mullet.
We then changed course and headed off to the Kariega river to see what we could find there. It was here that we came across something truly special! While exploring up the riverbank we came across a little creature that we initially mistook for some kind of worm but as it turned out we had somehow stumbled upon an Estuarine Pipefish, one of the most critically endangered vertebrates in the world with an estimated 250 individuals left and found only in the Kariega and Bushamans estuaries. This was a truly amazing find for us and shows what can happen when you change your perspective and pay attention to the small things around you.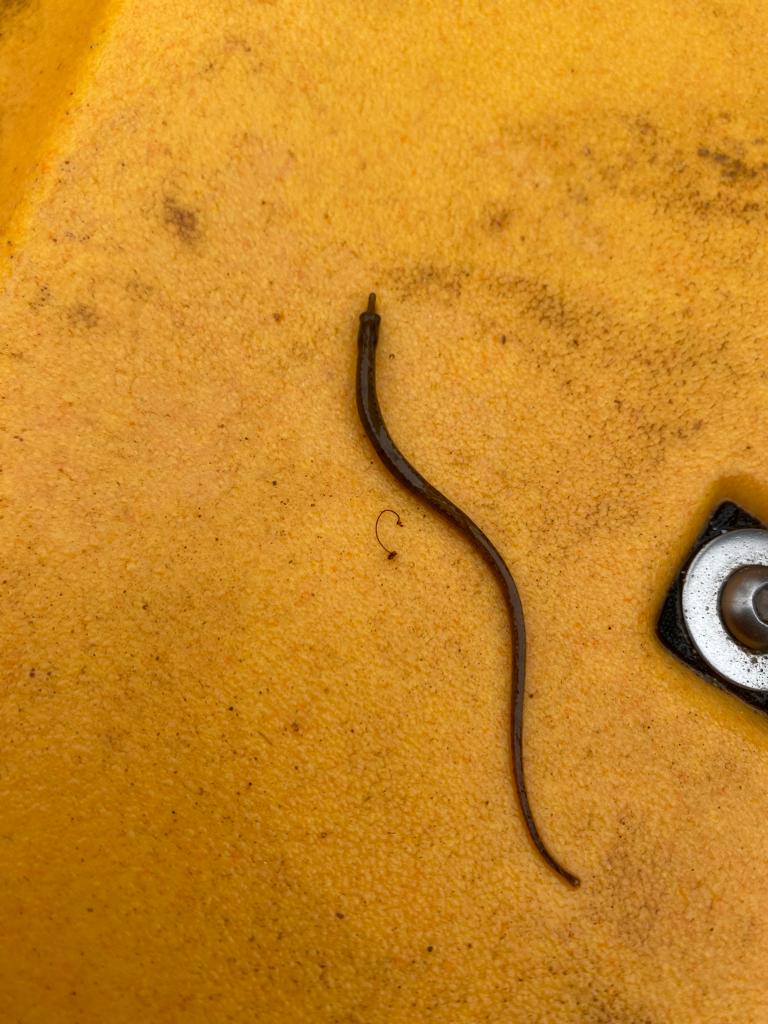 Another highlight of the week was our visit to Grahamstown to SAIAB the South African Institute for Aquatic Biodiversity where we were able to see a preserved specimen of a Coelacanth; a prehistoric fish previously thought to be extinct until it was found again in 1938 close to East London which was an incredible scientific discovery at the time. We were also given the opportunity to view the amazing collection of specimens located there. A fantastic experience to walk around a series of rooms filled with probably thousands upon thousands of jars all filled with specimens of species of fish and amphibians collected over many years. It was really eye-opening to see the amount of care that has been taken to collect organize and categorise all these samples for scientific research to improve our understanding of the oceans and the life found within them.
After exam Friday, we used Saturday as our final time to take a walk along the beach at Kleinemonde before heading back to Ulovane Campus. This was a great chance for us to take advantage of the strong easterly winds that had been blowing the last few days to see some interesting things that had been washed up. On a short stretch of beach, we managed to find some really interesting things that we hadn't seen before such as a still living cape cowrie as well as some giant barnacles still extending their legs out to search for food so we quickly put them back in the water and hopefully give them another chance!
We rounded the week of the week with an awesome trip to P.E. to take a boat trip to St Croix island to view some of our local marine life. We were very lucky to see some Indo-west pacific bottlenose dolphins giving us some amazing behavioral displays surfing the waves, coming close to investigate the boat, and even some mating displays. We also managed to see some African penguins like our little friend that we rescued last week, as well as many bird species such as cape gannets, cormorants, and a variety of gulls and terns flying around the boat. We were even lucky enough to see the resident black ray who calls the harbor home. Big thanks to Raggy charters for a really great experience and a wonderful way to cap off the week!
---
Make or Break
This week was nerve-racking and exciting at the same time! Assessment game drives entail taking guests out on a guided experience onto Amakhala Game Reserve. This is where all our theory knowledge and practical excursions came in hand. It was 9 weeks of intensive but valuable learning that would prepare us to become apprentice field guides.
We had to arrange all the necessary arrangements with the guests prior to their arrival for their guided drive. It was awesome to get into contact with my own guests and pass on everything they need to know/prepare. I was excited to get things going and see how I can apply everything that I have learned at Ulovane.
We did two drives so that you are fully prepared and ready. After the 1st drive, the assessor sat down with me and we went through all the positives and negatives before going on the 2nd drive later in the week. That helps a lot in preparing yourself and knowing what your strengths are and which areas you can improve.
I learned so much about myself during this week and learned how valuable being a guide is to entertain and inform guests coming on a guided experience. It was a little taste of great things coming in the future!
---
Ready or not, Game Drive Assessments were on us
My week was a bit different from my two colleagues Gerhard and Jack as I still had classroom to prepare exams for the Sunday and it wasn't less than 6 modules to study + the workbooks to do.
On Wednesday we had our tracking assessment which is basically a 12h in the bush trying to find and identify tracks. I never had proper tracking lessons before so I was a bit nervous but I am lucky to have participated in some volunteer projects whit amazing guides that taught me a lot! Still not happy with my final grade but apparently it was a good one… I also took the opportunity during the day to practice my driving before the assessment.
Thursday we had our Field Observation Assessment led by Karien where you walk around the reserve for some hours and all the modules you learned before came to play as Karien can ask anything and everything !!!!! And when I say everything, I am not joking! We were five for this assessment and we could feel how everyone was tired but it was great to see how much knowledge we gained during the last few weeks.
Friday and Saturday were the most difficult days for me with my two assessment drives. I had two groups of nine people with high expectations for the drive and I was very nervous about the driving and some procedures. Being at Ulovane for only 4 weeks compare to the other ones was a lot of pressure for me as I didn't have the same experience in the reserve and with the driving than them. I felt a bit unconfident but I have the chance to have amazing friends all around the world who trusted me and encouraged me for this test.

I put some badass music under the shower on the Thursday night and it was time to rock it !!
My first group had high (and quite not possible hahaha of leopard, hyena, and porcupines) expectations and I had to find a way to please them anyway, I think it was a success as everyone was very happy with the drive even when I offered them to play a little game that involves putting antelope poop in your mouth !! Yes, I really did it! The second group was super super enthusiastic to be in the bush and it was 4h of joy and laughter but also good sightings with Ellies, antelope, a lioness and some plant tasting !
Even if I could have done better, I am a bit proud of the improvements I made through the four last weeks.
The week ended with my last writing practical exams and I promise you, when you are done righting 6 modules you are more than happy !!!!!
During lunch, my (not) nice friends the birds pooped on my phone and next to my fries just to remember me to study their calls… What a very nice remember right ?! Those birds…
I believe we are ready for the last week now !
"Believe in your infinite potential. Your only limitations are those you set upon yourself."

― Roy T. Bennett,